Recent News
| | | | |
| --- | --- | --- | --- |
| Number of Foreign Visitors to Turkey Increased by 6.41 Pct. in June | | | |
Written by TACCI Admin
Monday, 28 July 2014 19:24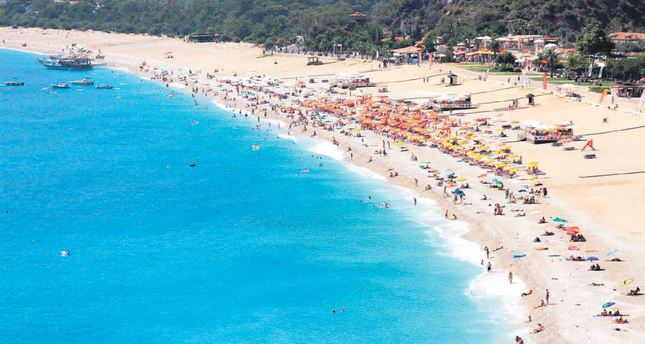 TURKEY ATTRACTS 15M TOURISTS IN FIRST HALF OF 2014
 ISTANBUL – The Ministry of Culture and Tourism announced statistics revealing the number foreign visitors in June increased by 6.41 percent to reach 4.33 million. According to the ministry's report the number of foreign visitors in the January-June period increased by 4.73 percent, exceeding 15.23 million. Speaking on the matter, Ömer Çelik, Turkey's Minister of Culture and Tourism remarked that Turkey has been having a very successful tourism season this year. "When we check the statistics, we can see the success," the minister said.

He also underscored that Turkey has secured a satisfying position in the "champion's league of tourism." Çelik also noted that Antalya, a province by the Mediterranean Sea, hosted 1.8 million tourists in June, while Istanbul hosted 1.1 million. "Our region has been going through an economically and politically hard time. However, Turkey managed to keep its brand value during this tough period which ensures that Turkey can achieve its targets on tourism," the minister said. According to data released by the ministry, Russians are the top of the visitors list with 18.58 percent (805,291) of total visitors, Germany ranked second with 12 percent (520,000) and Britain ranked third with 8.29 percent (360,000).

SOURCE - http://www.dailysabah.com/tourism/2014/07/25/turkey-attracts-15m-tourists-in-first-half-of-2014

--
Founded in New York in 2002, the Turkish American Chamber of Commerce & Industry (TACCI) is a private, not-for-profit membership organziation aiming to promote and increase the bilateral trade potential and investment levels between Turkey and the United States. 
For further information , please contact Basak Guner, TACCI Executive Director at 212-354 5470
| | | | |
| --- | --- | --- | --- |
| ForMóbile Furniture Show on July 29th-August 1st | | | |

Written by TACCI Admin

Friday, 25 July 2014 18:07




Last Updated ( Friday, 25 July 2014 18:14 )

| | | | |
| --- | --- | --- | --- |
| Turkey's Wind Energy Sector Booming | | | |

Written by TACCI Admin

Wednesday, 23 July 2014 16:36





Turkey's wind energy capacity soars in first half

87 wind plants have become operational in the country; 39 more are under construction


ANKARA 

Turkey's wind energy capacity has posted a 466 megawatt (MW) increase during the first half of the year, according to the Turkish Wind Energy Association.

The country's total wind energy capacity has reached 3,424 MW with a 466 MW increase in the first six months of 2014, Mustafa Serdar Ataseven, chairman of the association, told Anadolu Agency on Tuesday.

In 2013, Turkey added 244 MW to its total wind energy capacity.

He said the year-end target was to reach around 4000 MW by adding 900-1000 MW to the total capacity of the wind energy in Turkey.

87 wind plants have become operational in the country, while 39 more are currently under construction, he added.

38 percent (1,311 MW) of Turkey's installed wind energy capacity is located in the western region, whereas 36 percent (1,240 MW) of the capacity is based in the northwestern Marmara region which includes the country's largest city, Istanbul.

The southern region ranks third with 15 percent (543 MW), according to the 2014 Turkish Wind Statistics Report.

Provincial data in the report show that Balikesir province in the Marmara region ranks first with 767 MW, Izmir second with 576 MW and Manisa third with 393 MW in terms of installed wind energy capacity in Turkey. 

Turkey aims to supply 30 percent of its total energy demand from renewable energy sources including wind, solar and hydro power.

SOURCE -

http://www.aa.com.tr/en/economy/362791--turkeys-wind-energy-capacity-soars-in-first-half

--


Founded in New York in 2002, the Turkish American Chamber of Commerce & Industry (TACCI) is a private, not-for-profit membership organziation aiming to promote and increase the bilateral trade potential and investment levels between Turkey and the United States. 

For further information , please contact Basak Guner, TACCI Executive Director at 212-354 5470

 

Last Updated ( Wednesday, 23 July 2014 16:38 )

| | | | |
| --- | --- | --- | --- |
| Meeting With Congressman Donald Payne | | | |

Written by TACCI Admin

Tuesday, 22 July 2014 18:18

 
TACCI President Dr. Ali Koçak and Mr. Ali Çınar, Board Member of Turks Living Abroad Committee and Tomris Azeri, President of Azerbaijan Society of America met with the congressman Donald Payne, Jr. at his Newark office discussing possible collaborations of TACCI with Newark district on how to increase bilateral business and investment opportunities between Turkey and the State of New Jersey.




Last Updated ( Tuesday, 22 July 2014 19:34 )

| | | | |
| --- | --- | --- | --- |
| One Of The Worlds Biggest Investors, Goldman Sachs Becoming a Partner to Petkims Aegean Port | | | |

Written by TACCI Admin

Monday, 21 July 2014 16:23
 


Goldman Sachs buys into Turkish Petkim's Aegean port




U.S. multinational investment banking company Goldman Sachs has become a partner in Turkey's largest integrated port, operated by petrochemicals maker Petkim, in a deal that will boost the company's plans to develop the port to make it largest of Aegean region.
Petkim has announced that it has reached a preliminary agreement to sell its 30 percent stakes in Petkim Limancılık (Petlim) for $250 million, after months of talks that started in February this year.
Petkim and Petlim are controlled by the Turkish branch of Azeri energy giant Socar. Petlim was founded to deal with the economic operation of Petkim's port in the Aliağa district of the Aegean province of İzmir.
"One of the world's biggest investors becoming a partner to our port company means approval of the value and economy of our project," Socar Turkey President Kenan Yavuz said, speaking after a ceremony to mark the signing of the deal as well as a preliminary financing agreement with Turkish lender Akbank for the port project.
"We have signed a preliminary agreement for our port investment's project financing with one of Turkey's largest banks Akbank. We will secure $211 million in financing with a 13 year maturity within the term-sheet," Yavuz said.
"We're very glad to realize the share transfer deal with a global giant such as Goldman Sachs and the project financing agreement with Akbank on the same day," he added.
The investment, which will become Turkey's third container port, will become operational in the last quarter of 2015, Yavuz also said.
The Petkim Container Port, which for the first time in Turkey will enable the berthing of ships with 11,000 TEUs, will possess a starting capacity of 1.5 million TEUs. A logistic field with a total of 48 hectares will be created, with 42 hectares in the port field for container storage and 6 hectares in the rear service area. 
Socar Turkey also plans to build a refinery on the Petkim Peninsula with the aim of integrating refinery, petrochemical and logistical operations at the site.
The company is building the $5.5 billion Star refinery in partnership with Turcas Petrol to supply feedstock to Petkim and cut Turkey's dependence on imported refined products.
Socar Turkey signed a $3.3 billion credit deal for the refinery in June, marking Turkey's largest and longest-term financing deal for its first privately built oil refinery.



SOURCE - http://www.hurriyetdailynews.com/goldman-sachs-buys-into-turkish-petkims-aegean-port.aspx?pageID=238&nID=69354&NewsCatID=345




Last Updated ( Monday, 21 July 2014 17:02 )
«
Start
Prev
1
2
3
4
5
6
7
8
9
10
Next
End
»
Page 1 of 114